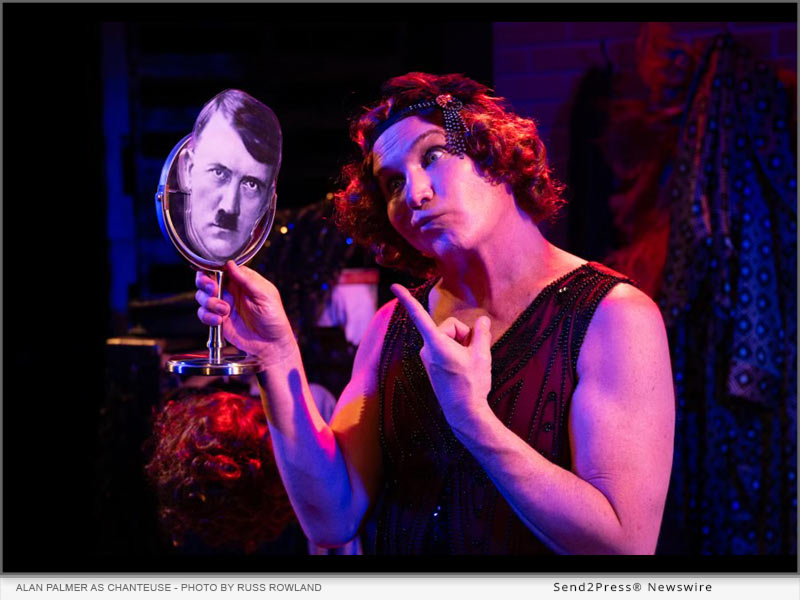 NEW YORK CITY, N.Y., Jul 14, 2023 (SEND2PRESS NEWSWIRE) — Alan Palmer is pouring his heart and soul into a beautiful adaptation of a historical topic that is almost too hauntingly familiar, poignant and incredibly needing to be re-examined in this present environment. "Chanteuse" is a one-man musical play about a gay man living in Nazi controlled Germany doing whatever he can to survive.
Instead of hiding, he takes on the persona of his late landlady and becomes Chanteuse, in the super clubs of Berlin. A story of sadness and triumph Alan Palmer is no stranger to the profound issues involved in this deeply personal story.
Actor, writer Alan Palmer is a constant optimist, he always puts others first and does it with a light-heartedness and sense of humor. Underneath this exterior is an artist's soul who works his craft with intent that exceeds much more than finances or fame. Just like his character in "Chanteuse" he has never hidden but met challenges with diversity. Growing up in Utah where gay rights were hard fought. He was crowned Mr Gay Utah where he represented other members of the Utah LGBT community.
Early in his career he was cast as Corcus, the Black Alien Power Ranger in the original "Mighty Morphin Power Rangers" TV show. Alan utilized the success of the series to help him create and work on many additional projects. Alan has embraced his "power" and is genuinely interested in others, meeting his fans face to face at Comicons and events around the world.
As Alan continued his career he worked prolifically in the realms of theater and musical theater. A natural beautiful pop/theater tenor he captivated audiences from Broadway to the West Coast. He directs, writes, choreographs, and even builds sets, designs lights and costumes. When living in Los Angeles he even had a small theater in his home.
Whilst having this strong artistic career, Alan is an equally devoted family man. Considered himself married to his husband long before it was "legal." Together they have raised two kids to adulthood who now have highly successful lives in their own right. Alan and his husband have had some major obstacles along the way. His husband, James has been a warrior while battling challenging health issues.
Alan continues a positive and hopeful outlook while managing to continue his theatre career. Like many actors met with early success things weren't always so easy and he had many bumps along the way. Alan was homeless in the winter in Chicago. He stayed positive and knew that there would soon be a way out. That came from a choreographer friend who offered to let him tag along to Virginia to work for a theme park for the summer. Alan came along for the ride and was soon cast in three of the shows for the year and found another passion working in the costume shop on his off time.
Alan has never felt discouraged or bitter. Instead, he stayed strong and steadfast and used his time of homelessness to create a CD entitled "Songs for Souls." This CD was recorded by homeless and street musicians at Sun Studios in Memphis. The proceeds went towards breaking the cycle of homelessness by getting tutors into shelters.
"The 'Songs for Souls' CD was a country music CD that was recorded was before they had any openly gay LGBTQ performers. People didn't know what to do with me," notes Alan Palmer. This out of the box uniqueness has led Alan to create many unique pieces of art culminating in the poignant inherent in "Chanteuse."
His fans appreciate his openness to LGBTQ rights and honor him for being an "out and open power ranger."
Jonas Sills, a former collaborator with Alan notes this, "Alan has taught so many so much, embracing his Power Ranger persona with his own can have such an impact on those struggling with identity… With our current political climate taking three steps backwards on cultural, women and LGBTQ rights, many battles once thought won, the world could use more peaceful subtle LGTBQ warriors like Alan and his show 'Chanteuse' which shows the same historical struggles."
The same compassion and heart he spread to the world, Alan brings to his performances. His soul and vulnerability bring these qualities out in others that he works with AND to his audiences as well.
This is a must see, can't miss experience.
MORE INFORMATION:
"Chanteuse" is playing at HERE Arts Center 145 6th Ave. (enter on Dominick) from July 11-30, 2023; Tuesday-Saturday at 7 p.m., Saturday & Sunday at 2 p.m.
For more information go to: https://www.chanteusemusical.com/
Get your tickets now at: https://ci.ovationtix.com/219/production/1163291
News Source: Actor Alan Palmer
Related link: https://www.facebook.com/alan.palmer2
This press release was issued on behalf of the news source, who is solely responsible for its accuracy, by Send2Press Newswire. To view the original story, visit: https://www.send2press.com/wire/alan-palmer-actor-singer-writer-and-gentle-advocate-is-opening-a-one-man-show-this-week-off-broadway-at-the-here-arts-center-in-new-york-city/