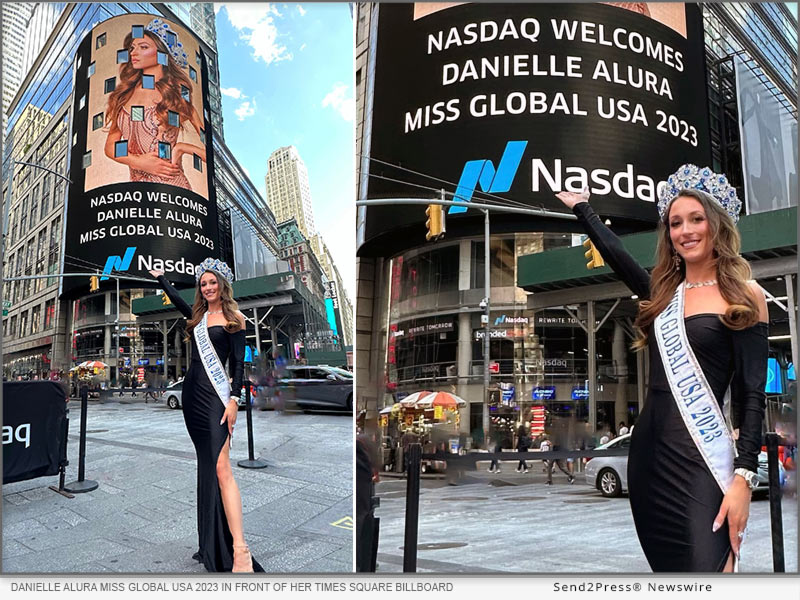 NEW YORK CITY, N.Y., Aug 29, 2023 (SEND2PRESS NEWSWIRE) — The bustling heart of New York City, Times Square, is known for its dazzling lights and vibrant energy. Recently, it witnessed a new star rise to prominence; Danielle Alura, the reigning Miss Global USA 2023 took center stage as her remarkable achievements and philanthropic endeavors were showcased on the iconic seven-story NASDAQ billboard.
From her role as a multi-talented actress, model, singer, and rally race car enthusiast, to her impactful work in philanthropy, Danielle Alura's journey is one that inspires, uplifts and intrigues. With more than 45 magazines gracing her portfolio, an impressive impact with her national charity, it's no wonder that NASDAQ highlighted Danielle on their billboard in NYC.
A Philanthropic Powerhouse and Advocate for Change
At the heart of Danielle's recognition is her unwavering commitment to philanthropy. As an advocate and member of the United Nations Association of USA, she has championed causes focused on building a Green Economy and addressing economic and racial inequalities. Her efforts have garnered her the prestigious 2020 Olive Branch Certificate of Recognition from the Coalition for Peace Action.
However, Danielle's philanthropic journey extends far beyond accolades. She has played a pivotal role in addressing family homelessness with the Family Promise Organization since she was 14 years old. With a passionate drive to break the cycle of homelessness, she has been an integral part of raising about 5 million dollars for the organization in the past six years, rehousing over 380 families and impacting the future of children across the nation. She has sat as the Secretary of the board, rose to be voted as Vice President, event committee Chair and capital fundraiser actively seeking donors from coast to coast.
A Multifaceted Talent with Global Impact
Danielle's achievements are as diverse as they are impressive. Singing opera in her grandfather's kitchen as a child to singing for a stadium on TV in China …to race co-pilot in prestigious rallies such as the Mille Miglia, Pebble Beach and the Ferrari Cavalcade… She embodies a spirit of adventure and a determination to conquer new horizons. Her passion and dedication have taken her all around the world showcasing her ability to use her platform for positive change. She simply crosses diverse worlds with grace and ease.
The NASDAQ billboard in Times Square illuminated the evening with a larger-than-life headshot of Danielle Alura is a reminder that in a world filled with challenges, there are individuals like Danielle who rise above and use their influence to drive change, inspire others, and leave an indelible mark on society. This mark in the media underlines the power of resilience, compassion and the potential of any individual's capability to shape the world as long as you have the passion and the heart. With each passing day, Danielle Alura continues to prove that her presence on the world stage is not just a result of her talent and beauty, but also a reflection of her soul's motivation and commitment to making the world a better place.
A Proud Representation of the USA
In a time where we can use better leaders, showcasing Danielle and her accomplishments testament to her role as an ideal ambassador for her country and a role model for future generations. As Miss Global USA, she has already accomplished so much for her charity, Family Promise OC, and has made many appearances to new countries around the world. Danielle Alura's commitment to "empowering women, embracing cultures, and embodying the beauty within" resonates perfectly with the values of the Miss Global Organization.
This November, Danielle will represent the USA as she competes for the international title of the Miss Global 2023 in the world Pageant in Vietnam. She carries with her the pride and support of a nation that recognizes her as a symbol of hope and inspiration. The deserving winner of the world title reigns for one year and graces the cover of Harper's Bazaar Magazine amongst many other life changing opportunities.
MORE INFORMATION ON MISS GLOBAL USA:
Email: MissGlobalUSApageants@gmail.com for more information on competing at the state level for the chance to win the national title. Registration is open to ladies not married, may have children and are between the ages of 18-35 years
FOLLOW HER HERE:
Instagram: https://www.instagram.com/daniellealura
TikTok: @danialura
MULTIMEDIA:
VIDEO OF BILLBOARD DEBUT:
https://youtube.com/shorts/dJg6w6a5eds
PHOTO link for media:
https://www.Send2Press.com/300dpi/23-0829-s2p-alura-timessq-300dpi.jpg
Photo caption: Danielle Alura Miss Global USA 2023 in front of her billboard in Times Square, NYC
News Source: Danielle Alura
Related link: https://www.daniellealura.com/
This press release was issued on behalf of the news source, who is solely responsible for its accuracy, by Send2Press Newswire. To view the original story, visit: https://www.send2press.com/wire/danielle-alura-miss-global-usa-shines-bright-on-nasdaq-seven-story-billboard-in-times-square-a-tribute-to-her-philanthropy-and-achievements/