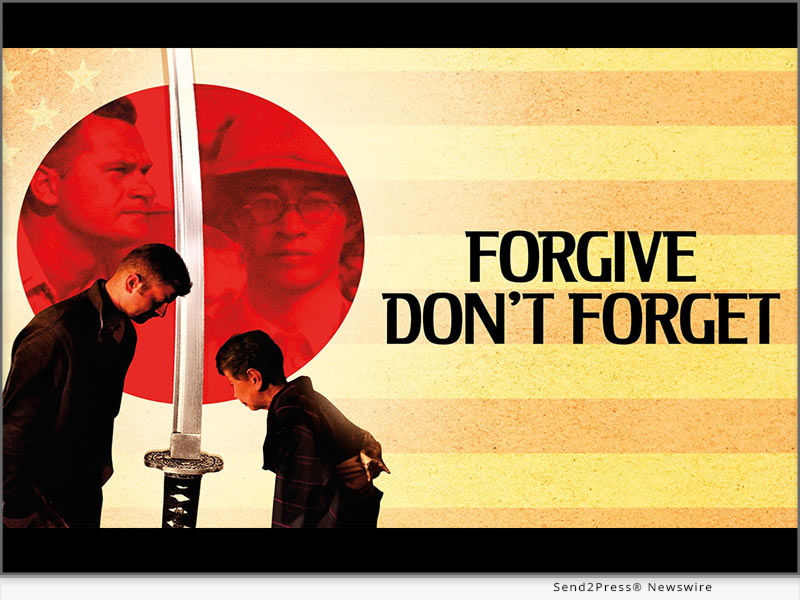 LOS ANGELES, Calif., Jun 09, 2023 (SEND2PRESS NEWSWIRE) — Scientology Network's DOCUMENTARY SHOWCASE – the weekly series providing a platform for independent filmmakers to air films on important social, cultural and environmental issues – presents the award-winning documentary "Forgive – Don't Forget" premiering on June 9, 2023.
Forgive – Don't Forget chronicles the journey by an American to return a Japanese samurai sword surrendered at the end of World War II to the family of its original owner in an attempt to better understand the past and build a bridge between cultures.
Codirected by Brad Bennett, Forgive – Don't Forget is, at its core, about the connection between two very different cultures and the importance of remembrance. The Japanese sword is a symbol deeply embedded in Japan's history and spiritual heritage. When an American who inherited a surrendered sword from World War II decides to try and track down the family of the original owner in hopes of returning it, he encounters many seemingly insurmountable barriers. His quest ultimately leads to a better understanding of both American and Japanese cultures and helps bridge the gap between the two.
ABOUT BRAD BENNETT
Brad is a Japanese American filmmaker and Emmy-nominated producer based in Virginia. His first feature documentary, Forgive – Don't Forget, won the Grand Jury Award for Best Documentary Feature at the 2017 Guam International Film Festival. Bennett has been featured in The Guardian, The Washington Post, The Boston Globe and by the International Documentary Association. His work has been supported by PBS, Southern Documentary Fund, Virginia Film Office and the UCLA Documentary Film Legal Clinic.
In an interview with Scientology Media Productions for Documentary Showcase, Brad reflected on his work:
"Stories of positivity are very important nowadays … through our film I just want to be able to share hope and the message of forgiveness and how powerful that is for all of us."
ABOUT PAUL D. UFEMA
During Paul's senior year in college, he was activated into the U.S. Army and sent to Cuba. It was there he was introduced to video journalism. After returning to the U.S., he worked in television production. He founded All New Bricks, a successful YouTube channel that specializes in Lego builds, which aides St. Jude Children's Research Hospital.
Paul shared insight on the underlying cultural significance of the film:
"I was returning a sword to a family and that's all it was. But it was so much bigger than that … we would be bridging the gap between two cultures and I think that's why people are drawn to it."
ABOUT DOCUMENTARY SHOWCASE
Fundamental to Scientology is a humanitarian mission that extends to some 200 nations with programs for human rights, human decency, literacy, morality, drug prevention and disaster relief. For this reason, the Scientology Network provides a platform for independent filmmakers who embrace a vision of building a better world.
DOCUMENTARY SHOWCASE debuts films weekly from award-winning independent filmmakers whose goal is to improve society by raising awareness of social, cultural and environmental issues.
For more information, visit Scientology.tv/docs.
The Scientology Network debuted on March 12, 2018. Since launching, the Scientology Network has been viewed in 240 countries and territories in 17 languages. Satisfying the curiosity of people about Scientology and Founder L. Ron Hubbard, the network takes viewers across six continents, spotlighting the everyday lives of Scientologists, showing the Church as a global organization, and presenting its social betterment programs that have touched the lives of millions worldwide.
Broadcast from Scientology Media Productions, the Church's global media center in Los Angeles, the Scientology Network is available on DIRECTV Channel 320, DIRECTV STREAM, AT&T U-verse and can be streamed at Scientology.tv, on mobile apps and via the Roku, Amazon Fire and Apple TV platforms.
CONTACT:
Media Relations info@scnmedia.net
LEARN MORE:
https://www.scientology.tv/series/documentary-showcase/forgive-dont-forget/
https://www.youtube.com/watch?v=df-97lhZBi0
MULTIMEDIA:
VIDEOS:
https://www.scientology.tv/series/documentary-showcase/forgive-dont-forget/videos/trailer.html
https://www.scientology.tv/series/documentary-showcase/forgive-dont-forget/videos/an-inside-look.html
https://www.scientology.tv/series/documentary-showcase/forgive-dont-forget/videos/inside-look-teaser-with-brad.html
https://www.scientology.tv/series/documentary-showcase/forgive-dont-forget/videos/inside-look-teaser-with-paul.html
https://www.youtube.com/watch?v=x983bqHKcrw
News Source: Church of Scientology International
Related link: https://www.scientology.org/
This press release was issued on behalf of the news source, who is solely responsible for its accuracy, by Send2Press Newswire. To view the original story, visit: https://www.send2press.com/wire/forgive-dont-forget-a-journey-to-return-a-samurai-sword-airs-on-documentary-showcase/