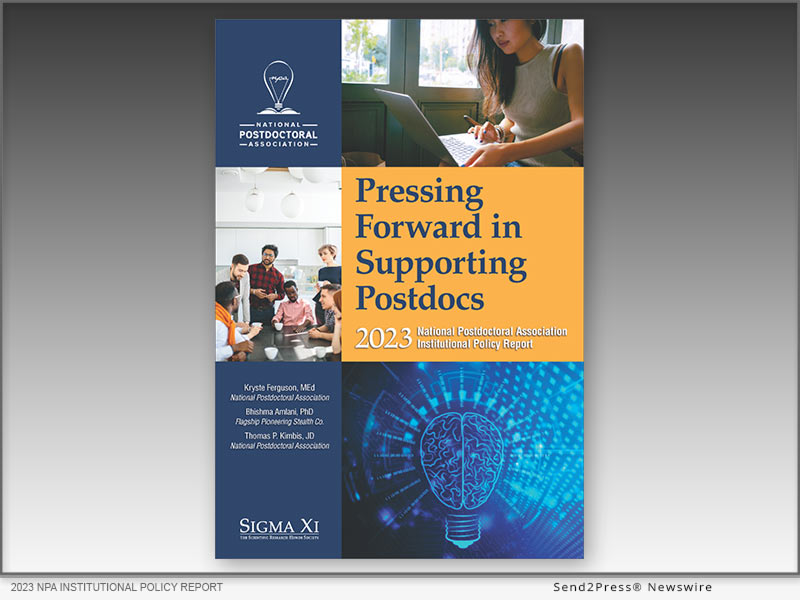 ROCKVILLE, Md., Oct 03, 2023 (SEND2PRESS NEWSWIRE) — A new report released today from the National Postdoctoral Association (NPA) published in partnership with Sigma Xi, The Scientific Research Honor Society, highlights both progress over the last decade in institutional support for postdoctoral fellows ("postdocs") as well as significant areas requiring attention. The report, Pressing Forward in Supporting Postdocs: 2023 National Postdoctoral Association Institutional Policy Report, makes specific recommendations to institutions hosting the nation's 72,000 postdocs.
"The NPA Institutional Policy Report is invaluable in showing how far we have come in supporting postdoctoral scholars, in helping us dig deeper into the issues that impact scholars and our offices, and in advocating for greater support for the scholars that are working hard to change the world," commented Sofie R. Kleppner, Ph.D., associate vice provost and associate dean, Stanford University.
The new release provides four critical recommendations for improving the postdoctoral environment: pay postdocs a competitive wage with comprehensive benefits; provide proper institutional support for postdoc offices and associations; collect data on postdoc demographics and outcomes; and provide a postdoc handbook transparently outlining institutional policies.
"This report provides clear direction for any institution with a postdoc program," commented Thomas P. Kimbis, J.D., executive director and chief executive officer of the NPA. "The data tell a tale of hard work and major successes in some areas- and the need to redouble efforts in others."
With data collected from more than 100 institutions, the NPA looked at key factors of postdoctoral programs, including policies, benefits, and training programs. With longitudinal data covering a span of nine years, originating with the first such report in 2014, this report provides a unique data set identifying specific areas of strength and weakness aggregated across U.S. postdoctoral policies and practices.
For the first time, the survey also collected information on diversity, equity, and inclusion (DEI) efforts at institutions, with support from the Burroughs Wellcome Fund. In regard to the total number of postdocs in the U.S., the data did not show any indication of a decrease over the last three years, although there has been a decline when looking across the last decade.
"This data gives us critical insight into key areas of need when it comes to institutional support and fair pay for postdoctoral scholars," said Jamie Vernon, Sigma Xi executive director and chief executive officer. "The inclusion of DEI information in this year's report represents a key area of importance for both Sigma Xi and the NPA and can produce a valuable barometer for institutions."
The report is tied to the NPA Recommendations for Postdoc Policies and Practices, which provides comprehensive guidelines for institutions hosting postdocs. A new version of the recommendations is scheduled to be released in 2024, providing additional direction to institutions seeking to improve their postdoctoral environments.
Pressing Forward in Supporting Postdocs is being released in conjunction with the September/October issue of Sigma Xi's publication, American Scientist, and is also available online at the Sigma Xi and NPA websites. The report is the fourth in a series of triennial reports on this topic. Past reports and aggregate survey data are available to NPA members online.
More information: https://www.nationalpostdoc.org/page/policy_report_databa
About National Postdoctoral Association:
The National Postdoctoral Association (NPA) is a nonprofit, 501(c)(3) educational association headquartered in Rockville, MD. Founded in 2003, the NPA envisions an inclusive community where all postdocs are empowered, valued, recognized, and supported in their current and future endeavors. The NPA serves the entire postdoctoral community, including its 20,000 individual and 230 organizational members.
Learn more: https://www.nationalpostdoc.org/page/Join
News Source: National Postdoctoral Association
Related link: https://www.nationalpostdoc.org/
This press release was issued on behalf of the news source, who is solely responsible for its accuracy, by Send2Press Newswire. To view the original story, visit: https://www.send2press.com/wire/gains-and-challenges-seen-in-new-study-of-u-s-postdoc-programs/