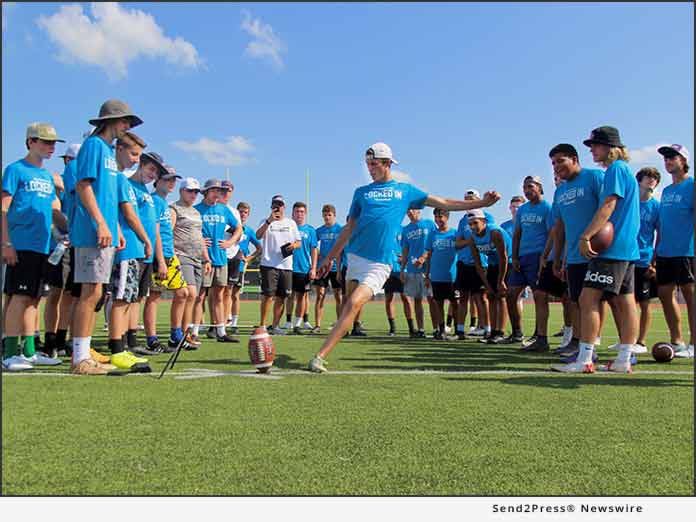 AUSTIN, Texas, Aug 29, 2019 (SEND2PRESS NEWSWIRE) — The largest instructional kicking camp in the country, Kicking World, announced its 2019 list of the top kickers in Texas.
"The best HS kickers and punters are in the great state of Texas. With Kicking World based in Austin we're fortunate to work with them year-round. This year's list not only encompasses the best prep specialists in Texas, but some of the top kickers in the country," said Brent Grablachoff, owner of Kicking World.
:: Seniors (2020)
Jared Zirkel
Tivy HS – Kerrville, Texas
The cannon-legged Class of 2020 kicker is verbally committed to the University of Georgia on scholarship. It will be hard for the HS senior to improve on last year's wow season where he connected on a 59 yard field goal with 63 of his 70 (90%) kickoffs going for touchbacks. Jared Zirkel has undoubtedly the biggest kicking leg in the country. The 6'3 Hill Country kicker hit a 70 yard field goal at practice and several kickoffs over 80 yards and 4.3+ seconds putting his leg strength amongst NFL kickers.
Trey McTaggart
Muenster HS – Muenster, Texas
The small German town of Muenster houses one of the most consistent HS kickers in the nation. McTaggart had a perfect 100/100 PAT streak throughout 2017, amassing 127 points his sophomore season putting him at #2 in the entire country for points by a kicker. The 2x All-State kicker holds multiple offers and turned heads on the college camp circuit winning events at Notre Dame and finishing among the top at Wisconsin.
Everett Ornstein
Langham Creek HS – Houston, Texas
The Houston product is verbally committed to UTSA on scholarship. He has emerged as one of the top kicker/punter recruits in the state. Everett has a big leg and can do all 3 – field goals, kickoffs, and punts.
Anthony Ortiz
Royse City HS – Royse City, Texas
The 5A All-District kicker only started kicking 2 years ago and has evolved quickly. He's won several Kicking World field goal and kickoff events. Anthony completed his junior year football season with a perfect 9/9 FG and 14/14 PAT.
Perrin Teer
Huntington HS – Huntington, Texas
Perrin has a big kickoff leg and a field goal range from inside 55 yards. The All-District kicker shows a lot of potential and if he can get some in-game opportunities this season colleges should start coming around. Perrin has a 1240 SAT score.
Alejandro Chavarria
Central Catholic HS – San Antonio, Texas
Alejandro switched from soccer to football just a year ago and was very raw at the start but made huge progress in less than a few months. The quick learner can do all 3 (FG/KO/P) and has one of the strongest legs of HS kickers in San Antonio.
:: Juniors (2021)
Justin Bohrer
Cedar Park HS – Cedar Park, Texas
Last season the junior helped propel the Timberwolves into the 2nd round of the Texas HS Football state playoffs with a 37 yard game-winning overtime field goal. Justin Bohrer is listed as the top Class of 2021 kicker on the Kicking World Hot Prospect List, ranking him as one of the best kickers in the nation. The Cedar Park product is poised for a big junior season and is scholarship ready.
Garrett Stiles
Seguin HS – Seguin, Texas
The 6'2 kicker made All-District and All-Area honors last season. Garrett has a big kickoff leg and although he only had a few kicks in-game last year, he's got the big kick range and with more in-game opportunities this season he will get college offers.
Tripp Daniel
St Michael's Catholic Academy – Austin, Texas
The top private school kicker in Austin hit a 42 yard field goal last season with 7 of 8 made (88%) and 21 of his 22 PATs (95%) showing a very consistent sophomore campaign. The St Michael's kicker has a 29 ACT.
Nick Hernandez
Ronald Reagan HS – San Antonio, Texas
Following a very impressive HS career from former Reagan kicker Steven Opella who's now off to the University of Nevada, Nick looks to make his mark on Varsity this season. Hernandez can do all 3 – field goals, kickoffs, and punts, and shows a lot of upside and should start getting interest from colleges very soon.
:: Sophomores (2022)
Buck Buchanan
Hallsville HS – Hallsville, Texas
One of Kicking World's youngest Hot Prospects, Buck had an impressive performance at the 2018 National Showcase where he finished near the top of his class and in the upper tier of over 60 kickers who attended from over 20 states. The HS sophomore has shown he can kick field goals from 55 yards out and kickoffs deep in the end zone. He's an under-classmen kicker that should turn heads this season.
About Kicking World
Kicking World ( https://www.kickingworld.com/ ) is the leading football kicking, punting & snapping instruction provider in the world. The Company, based in Austin, Texas holds over 50 national kicking camps in 34 major cities in 20 states training over 1,500 students a season. Owner Brent Grablachoff provides year-round private instruction across the state of Texas.
Visit the Kicking World Hot Prospect List for bios, photos, video, and detailed write-ups on each of this year's top kickers in Texas: https://www.kickingworld.com/hot-prospect-list/
Media Relations
Brent Grablachoff
Owner & Coach
Kicking World
512-817-1333
Press Kit: https://www.kickingworld.com/press-kit
News Source: Kicking World
Related link: https://www.kickingworld.com/
This press release was issued on behalf of the news source, who is solely responsible for its accuracy, by Send2Press Newswire. To view the original story, visit: https://www.send2press.com/wire/hs-football-preview-the-top-kickers-in-texas/