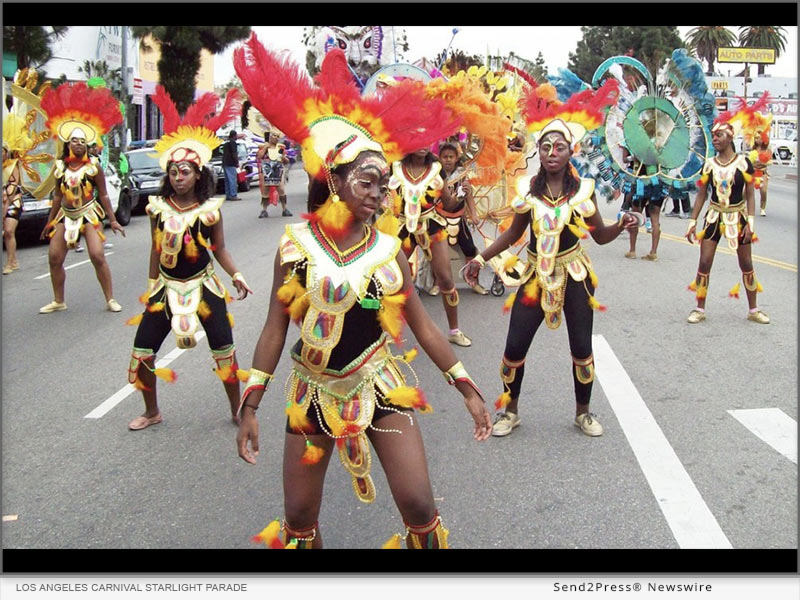 LOS ANGELES, Calif., Jun 07, 2023 (SEND2PRESS NEWSWIRE) — On the heels of Juneteenth, Los Angeles' Leimert Park Village will become ablaze with passion in honor of Caribbean American Heritage Month when Marikel International presents the inaugural Los Angeles Carnival Starlight Parade, a multicultural, fun filled family festival. Slated to take place Sunday, June 25, 2023, from 6 p.m. to 11 p.m., the parade will ignite Crenshaw Blvd. with a dramatic celebration of heritage and pride.
The evening festivities, produced by Marikel International and LA Carnival founder Marie Kellier, will serve as a prelude to the full scale LA Carnival coming to Leimert Park next year. The Los Angeles Carnival Starlight Parade is free and open to the public. Leimert Park Village is located at 4395 Leimert Blvd, Los Angeles, CA 90008.
The vibrant gathering of people, businesses, artisans, musicians, and food vendors will launch with dancing on Crenshaw Boulevard to the pulsating cadence of 100 diverse drummers who will infuse the city with resonance and rhythm. The spectacular assembly will gather at Martin Luther King and Crenshaw Boulevards with dancers and revelers led by the LA Carnival Youth on Parade contingent. As daylight simmers to night, 100 beautiful flags, designed by the community and decorated with positive messages, will illuminate Crenshaw Blvd. with lights and a brilliant vision for peace. The procession culminates in the Leimert Park Art Walk with a grand drum circle and spirited call and response performances in People Street Plaza.
With the full event coming in 2024, Los Angeles Carnival is being positioned as a major destination event. Corporations, municipalities, and organizations will be able to utilize the occasion as a regional vehicle that celebrates their stories, representing the Los Angeles region as a leader in arts, culture, and technology to the international community.
According to LA Carnival founder, Marie Kellier, "Los Angeles Carnival is a part of an important movement. Over the last decade, Leimert Park Village has experienced a virtual rebirth with the emergence of dynamic young business owners staving off gentrification by staking their claim to this historic 'epicenter' of Black culture in Los Angeles. Our vision is to establish the Carnival as a world class arts and multicultural affair in this area for decades to come."
In preparation for the Los Angeles Carnival Starlight Parade, Kellier is conducting carnival arts residencies and workshops to train and teach young artists costume design and production skills.
Partially funded by a California Arts Council Youth Development grant, the workshops are training a new cohort of leaders who are helping to produce the June 25 launch and will continue as associate producers of LA Carnival in 2024.
The first set of paid youth residencies and free community workshops began on May 23 in Leimert Park and will continue every Saturday from 11:00 a.m. to 1 p.m., and Tuesdays and Thursdays from 4 p.m. to 6 p.m. in the Leimert Park People Street Plaza.
Over the next year, Marikel International alongside a network of youth producers, nonprofit, corporate and community partners, will provide job opportunities and resources by training producers, creatives, and youth artists across the 88 cities of Los Angeles County.
"This inclusion of diverse Angelenos from across Greater Los Angeles will allow the creativity and traditions of various cultures to fill the streets with music, culture, dance, and masquerade representing the voice and rhythm of our region," cites Kellier.
Traditional Caribbean carnivals are extremely popular around the world and held over several days. Carnivals are largely comprised of amazing gatherings of dazzling costumed masqueraders, who wear the same style or color as part of the same 'band.' Each 'carnival band' is organized by a 'band leader.' The leader chooses the theme and designs the attire or works with a designer and costume maker to manufacture them. The band leader then recruits revelers who purchase their designs and come out to 'play' in their band.
Marie Kellier's LA Carnival On Tour is the traveling component of LA Carnival. It brings carnival culture to schools and communities throughout the region that would not normally experience this art form. It presents an authentic street performance vibe with a full standard-based educational program. Started in 1998, Los Angeles Carnival is the longest running Caribbean carnival organization in Southern California, and is part of the international circuit of Caribbean carnivals imported into communities worldwide by Caribbean immigrants since the 1930's.
Having built LA Carnival from the ground up, Kellier is no stranger to pioneering community work. It was Kellier's persistence and 'can do' spirit, along with the support of grant funders and community volunteers, who created the infrastructure and built the foundation for other Caribbean carnival events now happening in the region.
All Angelenos across the city and county of Los Angeles and beyond, are invited to be part of Los Angeles Carnival Starlight Parade, regardless of cultural origin, status, physical ability, belief, or orientation. Businesses along the route and across the region are encouraged to participate as sponsors or exhibitors and to bring their teams out to the parade.
The Los Angeles Carnival Starlight Parade highlights Caribbean American Heritage Month with a joyous post Juneteenth observance that continues the commemoration of cultural diversity. Mark your calendars now and get a taste of the Caribbean without having to board a plane!
For more details and information, go to https://www.losangelescarnival.com/ or email the Los Angeles Carnival's production office at lacarnivalarts@gmail.com.
News Source: Marikel International
Related link: https://masmediagroups.wordpress.com/
This press release was issued on behalf of the news source, who is solely responsible for its accuracy, by Send2Press Newswire. To view the original story, visit: https://www.send2press.com/wire/marikel-international-brings-caribbean-carnival-spirit-to-leimert-park-village-with-a-post-juneteenth-starlight-parade/