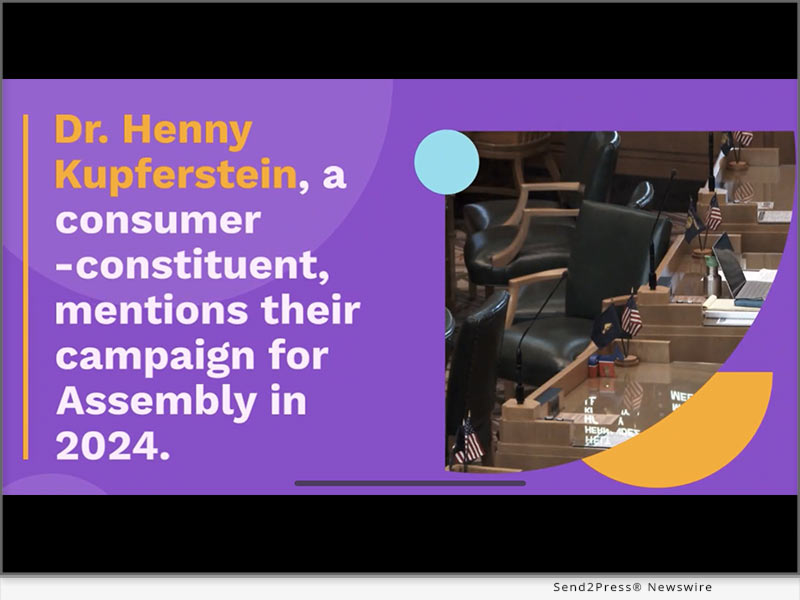 SAN DIEGO, Calif., Aug 31, 2023 (SEND2PRESS NEWSWIRE) — Assembly Bill 1147 (AB-1147) is under scrutiny as concerns mount over its potential impact on the voice of consumers and the democratization of decision-making. Leading this charge is Dr. Henny Kupferstein, a vocal advocate and DDS consumer who has rallied opposition against the bill, and who is a candidate for Assembly #77 coastal San Diego 2024. AB-1147 is scheduled for a hearing, and its implications have ignited a wave of concern among consumers and advocates alike.
Henny Kupferstein and a coalition of concerned consumers have voiced their objections to AB-1147, citing a lack of safeguards for consumers' interests. The bill, as it stands, appears to prioritize substantial financial gains for traditional vendors within the $15-billion program, without explicitly addressing consumer protection and advocacy.
"It's disheartening to witness the exclusion of consumer perspectives from the analysis of AB-1147," laments Kupferstein. "This exclusion sends a troubling message about the state of our democracy, making consumers feel voiceless and sidelined in matters that affect them directly."
Kupferstein, in a bold move, has initiated contact with the Senate Appropriations Committee, urging them to reconsider AB-1147 in light of the widespread consumer opposition. This opposition is underscored by consumers' collective demand for the bill's rejection, claiming it would lead to unjustified expenses and an unbalanced distribution of resources.
Notably, consumers of Regional Centers have united in submitting a letter of opposition to the Senate Judiciary Committee. Their aim is not only to register their protest but also to ensure that their voices are heard and acknowledged. The demand for confirmation of receipt of their opposition letter highlights the gravity of their concerns.
Clarifications have been made by Kupferstein, who emphasizes that the sponsor, Disability Voices United (DVU), does not represent consumer interests in their opposition to AB-1147. Kupferstein further urges the Senate to discern individualized consumer voices from DVU template letters, affirming that these templates do not truly reflect the breadth of consumer sentiment against the bill.
In a surprising twist, Dr. Henny Kupferstein, a dedicated consumer-constituent, has announced her Campaign for Assembly #77 coastal San Diego 2024. This underlines the determination of consumers to secure their rights and influence legislative decisions that impact their lives.
For further inquiries, please contact:
Dr. Henny Kupferstein, votehenny@gmail.com or http://www.votehenny.com
As AB-1147 approaches its hearing date, the voices of concerned consumers like Henny Kupferstein ring clear: democracy must be upheld, consumer voices must be honored, and bills like AB-1147 must be critically assessed to ensure their alignment with the interests of those they affect.
See You in Sacramento
Join the movement, and look advocates in the eye on Friday, September 1st, as they gather in Sacramento to occupy the Senate for consumer rights and democratic representation.
MULTIMEDIA:
VIDEO (YouTube): https://youtu.be/SyxhCCiYFII
News Source: Dr. Henny Kupferstein
Related link: http://www.votehenny.com
This press release was issued on behalf of the news source, who is solely responsible for its accuracy, by Send2Press Newswire. To view the original story, visit: https://www.send2press.com/wire/opposition-to-ab-1147-gains-momentum-advocates-raise-concerns-over-consumer-voice/