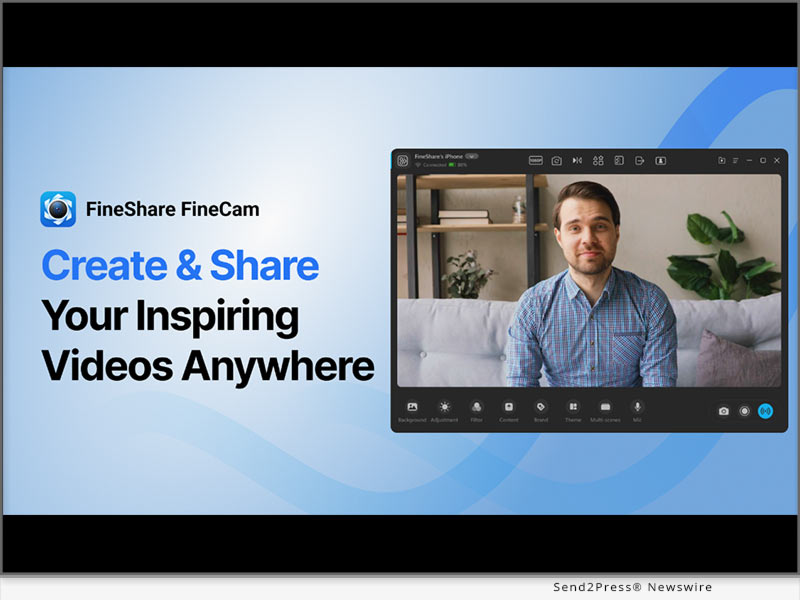 LOS ANGELES, Calif., Jun 07, 2023 (SEND2PRESS NEWSWIRE) — FineShare FineCam has recently unveiled its latest version, V2.0, introducing new AI features and bringing a complete revamp of UI and user experience. With its user-friendly interface, intelligent video enhancement, and convenient solution for transforming smartphones into webcams, FineShare FineCam makes it faster and easier than ever to obtain high-definition videos and create a seamless, professional video experience during video recording and video conferences.
FineShare FineCam is the first AI-powered virtual camera software that leverages cutting-edge artificial intelligence deep learning models such as text-to-image generation, semantic segmentation, and super-resolution, making it a game changer. It allows users to quickly create high-definition videos and deliver engaging video conferences wherever they are.
One of the highlights is AI background generation. We finetune the text-to-image generation model, so users can input corresponding prompts based on the given instructions to generate unique backgrounds within seconds, helping them quickly and efficiently show their personality and elevate their professionalism in video conferences and pre-recorded videos.
The updated features of FineShare FineCam V2.0 include:
1 – Big UI update: We have changed the user interface to provide a better user experience.
2 – Content sharing: It works on any platform with virtual camera support and allows users to share slides, application windows, iPhone/iPad screens, webpages, videos, images, and more.
3 – Theme templates: Users can apply free themes to get the layout, background, lens style, and more with one-click and quickly start video calls, online courses, product demos, and tutorial recordings.
4 – Segment recording: Users can record videos in small segments, freeing themselves from the constraints of lengthy and uninterrupted video recordings.
"Our goal is to enable anyone to quickly create high-definition videos and deliver engaging virtual presentations," said Jared Dun, the founder of FineShare. "The launch of FineCam V2.0 marks a new era for AI-powered virtual camera. We hold the belief that the power of the most advanced AI tools will revolutionize the way people deliver video presentations, bringing unprecedented efficiency and convenience."
Compatibility:
FineShare FineCam V2.0 is compatible with Windows. If you want to learn more about FineShare FineCam, please visit: https://www.fineshare.com/finecam/ or follow us on YouTube, Facebook, Twitter, and Instagram.
About FineShare Co., Ltd.:
FineShare is an intelligent software company committed to providing individuals and businesses with innovative solutions to simplify digital life. Our mission is to help people create and share inspiring content such as videos, music, photos, and more on any platform and device. Ignite creativity, build better connections, and embark on a shared journey of delightful digital experiences with FineShare!
Related Links:
https://www.fineshare.com/finecam/
https://www.fineshare.com/education/
https://www.fineshare.com/finecam/remove-webcam-background.html
https://www.fineshare.com/resource/use-iphone-as-webcam.html
https://www.fineshare.com/finecam/use-phone-as-webcam.html
Social Media:
Facebook: https://www.facebook.com/FineShareSoft
Twitter: https://twitter.com/FineShare_Soft
Instagram: https://www.instagram.com/fineshareofficial_/
Video:
News Source: FineShare Co. Ltd.
Related link: https://www.fineshare.com/
This press release was issued on behalf of the news source, who is solely responsible for its accuracy, by Send2Press Newswire. To view the original story, visit: https://www.send2press.com/wire/fineshare-finecam-the-first-ai-powered-virtual-camera-unveiling-powerful-ai-text-to-image-generation-feature/